The Ivy Inn is a perfect size for all your needs!
Private Parties
One of the best kept secrets in town is that you can host your own private (well semi-private) party at the Ivy! Give us a call, drop in or send us an email to discuss options. There is nothing like an Ivy party!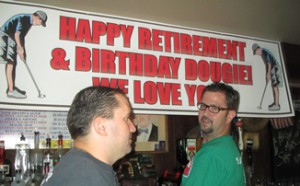 Retirements & Birthdays
The size of the Ivy Inn is just perfect for personal gatherings. The re-vamped outdoor patio provides an extended area to sit back, relax and sip on your favorite drink. Set behind the bar, this is your spot to get away from it all.  Enjoy our new "Community Table" that can transform our pool room into your banquet room.  You'll be amazed at our creative use of space.